---
Other things you can do:
15×30 Frame Tent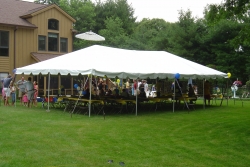 A frame tent may be ideal for your event. They can either be staked into the ground or anchored down with weights, not into the ground, when staking is not practical. This flexibility enables them to be placed on existing structures like patios, decks, blacktop, or event right next to a building for additional indoor space.
Frame tents are free-standing structures, with adjustable legs and can be installed in tight places.
A frame tent can provide a fun and whimsical feeling to an event or a classy sophisticated feel for a more formal affair.
If you think this type of tent may be best for your special event, then you have definitely come to the right place.
For reservations call us today at 978-283-4884 or 866-215-TENT
or send us an e-mail to info@rentent.com